Fan Sites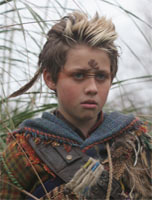 This is where you will find links to other sites on the internet connected with The New Tomorrow.
These include The New Tomorrow pages and sites of broadcasters of the series (like FIVE in the United Kingdom).
There are also links to some sites set up by fans around the world. If you have your own The New Tomorrow fan site and would like to have a link from the Official The New Tomorrow website, then all you need to do is email us with your URL and the name of the site to Contact Us – making sure you tell us the name of your site and what it is about.
All images and information on this website are copyright to © 2005 Cloud 9 (The New Tomorrow) Limited but we are happy for genuine fans to create their own fan websites as long as they include the above copyright notice – none of the images or information can be used by commercial parties or websites.
Fans are welcome to use photos from the official site for your fansite. Please make sure you put a "© Cloud 9 The New Tomorrow Ltd" on each page of your site which contains our photos. At present you are not permitted to use any text unless you get permission from us. Please also include a link to http://www.thenewtomorrow.net from your homepage.
You may see the Privacy Policy online at the bottom of The New Tomorrow homepage.