News – 16 September 2005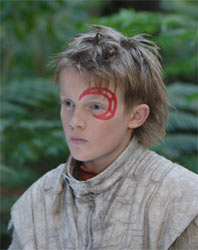 Welcome to The New Tomorrow website!!
The first episode of The New Tomorrow screens on Channel 7 in Australia on Saturday 17th September. They will be screening two half hour episodes from 11am to 12pm.
It will also be screening on Shake on FIVE in the United Kingdom on Sunday's from 2nd Oct at 11.05am!
Don't miss it!
Here is a quick summary of what the show is about:
A mysterious virus has wiped out the adult population. Leaving children to fend for themselves. Tribes of children now roam the lands, living in encampments of tents, crude primitive dwellings and caves.
Tribes such as the Ants who live and farm in a snow capped mountainous region and just want to live in peace, unlike the Barbs who control the rivers and forests and are determined to extend their rule. It is the Privileged though, who strive for total dominance as well as perfection of look, style and attitude, even if it means oppressing their slaves – the Discards – who work on their plantations.
The New Tomorrow combines action and adventure, mystery and intrigue, humour and pathos with underlining themes of hope and human endeavour where good always triumphs in the end.