Characters – Sal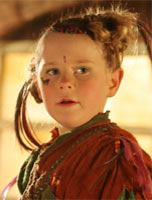 Sal – 6 years old
Tribe – The Ants
Sal is the youngest member of the Ants. She is a big animal lover and absolutely adores her little pig Star, for whom she would do anything.
Smart and savvy for her age and very strong willed she dislikes the Barbs and thinks they're smelly!
Played by
Abbey-May Wakefield
Age – 7 years old
Hobbies/Interests – I like playing with my baby brothers, Xbox, riding my bike, singing, and dressing up.