Episode Guide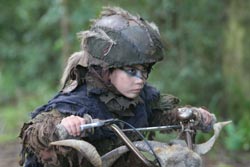 The New Tomorrow – Episode 21
The Stranger, on Kwarli's bike, encounters the machines and speeds away. Then he returns to Zoot's goggles and stares intensely at them.
At the Ant camp Faygar gets bossy with Leanne and Erin for not doing their chores. They are worried because they hear the machines.
They then go to look at Flame, still sharing accommodation with the goat. He growls at them. They complain to Zora that Faygar is being bossy and that Flame scared them. She isn't very sympathetic and tells them not to visit Flame again. Zora visits Flame and asks him to be nice. Flame offers to join forces with Zora – she tells him to forget it.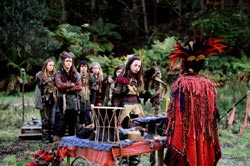 Meanwhile Cass and Omar reassure Faygar who is feeling suspicious of Zora. The tribes are getting along well now, they tell her, and they and the other Ants still think of her as their leader. After Kwarli explains to Sal that even though you can't see something it may still be there, she plays a game with her chick Happy, whose birthday present has gone.
Harmony, relishing her new position as Priv leader, seeks enthusiasm from Gwyn, and sings to her, while Sky and Dan, working near Shadow, plan an escape. When Sky and Dan escape, pursued by Warps, who do not find them, Shadow takes the opportunity to escape as well. When news of the escape reaches Harmony she's furious.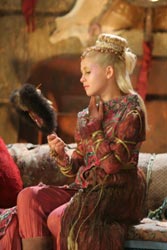 The Ants and Barbs gather at the Shrine, where Faygar and Zora clash about their beliefs and whether the machines and prophecies are more dangerous than Harmony. Zora agrees to lead only the Barbs but Faygar doesn't trust her. When the Ants and Barbs gather for supper, Zora volunteers to take Flame his and explains to him he has no power. However he warns her to be careful as he might get even in future.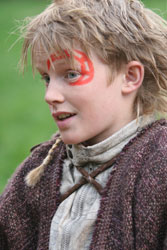 Faygar and Cass are suspicious because Zora spends so long with Flame and when she comes back, she and Faygar argue again about Harmony and the ancestor. Everyone gets spooked when Faygar warns about the descendants of Zoot returning.
On their way home, Sky and Dan celebrate their escape, watched by the Stranger.