Episode Guide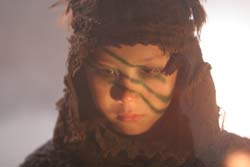 The New Tomorrow – Episode 23
Sky and Dan bring the Stranger back to the Ant camp, with the things he stole from them. The Ants and Barbs put him, withdrawn and silent, in the Ant prison hut. As Faygar prays for guidance about him, the Stranger begins to make patterns with some grain.
Sky suspects Flame knows the Stranger and Flame unconvincingly denies this. Sky then sees the Stranger's patterns, of Zoot's goggles, machines, circles and stars. "Who are you?" he wonders.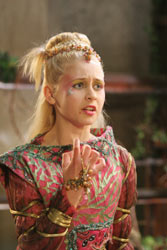 Sal is thrilled her present for Happy has come back. Erin teases her with chicken talk and then Sal persuades Leanne to talk like a chicken too. Zora hopes Dan can help her find out what Harmony's planning but, still hurt about Gwyn, he can't help her.
At the Priv complex, Harmony panics because she has a spot on an important day. Gwyn suggests how to deal with the problem and Harmony makes her inspection masked, with Gwyn telling her what to say. After the inspection, Harmony believes that everyone adored her and is delighted to find her spot has gone: time to celebrate! When she starts to celebrate alone, Gwyn's disappointed, and Harmony reminds her that she is special and Gwyn is not.
As Sal orders Dan and Flame around in the vegetable garden she gets the better of Flame.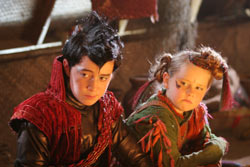 Sky and Zora examine the Stranger's drawings together but when Faygar joins them and sees the markings, she freaks out. Kwarli explores the night sky for evidence relating to the drawings and Faygar decides that the Stranger is a descendant of Zoot.
Cass takes the little ones to bed and Flame warns her against mentioning the machines in a bedtime story. Then, once Flame's gone to bed, Sky asks Kwarli "What have you got?"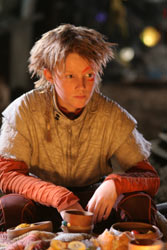 As the storm rages, a machine bows in worship in front of a huge stone and Cass tells Sal, Erin and Leanne a story. Flame has a nightmare about Harmony and the Stranger. And Kwarli explains what he's found out, while the Stranger himself gazes at his drawings. Even with Kwarli's information, the tribe members can't make sense of it all. In the morning, Sky and Zora leave camp, in search of more information.