Episode Guide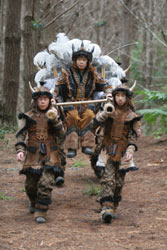 The New Tomorrow – Episode 24
Representatives of the Bird tribe, including Sunni , arrive at the Priv complex to meet with Harmony. She and Gwyn feel uneasy when Sunni claims that the Birds "take whatever they want."
Dan and Erin are sick of following everyone else's rules. They discuss going into the forbidden zone to help Zora and Sky.
At the Ant camp, Flame tells the Barb guarding the Stranger that Cass wants to see him and someone takes the bar from the Stranger's window. When Cass takes the Stranger some food, he's gone.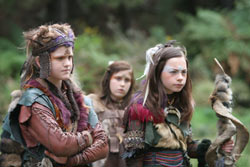 Omar and Kwarli go to find him, leaving Dan, Erin and Sal in the garden, where Sal experiments to find out whether water will make a chicken or Erin grow.
While the Stranger keeps moving, with Omar & Kwarli behind him, Faygar tells Cass that she's responsible for the escape. She's distraught: "We have to prepare for the prophecies. The coming of the descendant of Zoot. Or we're doomed."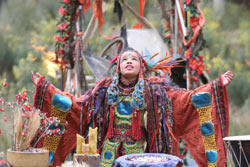 Cass apologises to Flame for accusing him of letting the Stranger go. She tells Faygar that she should have discussed setting the Stranger free before doing it. Erin, Sal and Leanne argue.
Zora and Sky reach the cave and find a sign that leads them onwards, then the monument. They feel its energy.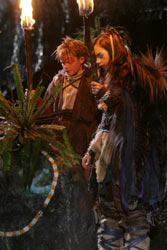 A Warp patrol arrests Kwarli and Omar in the forest while the Stranger watches and takes them to Harmony who questions them about the Stranger.
As they walk along the riverside, Sky and Zora see the Stranger. Together, thanks to Zora's skill, they recapture him. At dinner, the Ants & Barbs worry about Kwarli and Omar, Flame tries to scare everyone and he and Dan go head to head.
Over at the Priv complex, Gwyn takes Omar and Kwarli some food and offers to help them.