Episode Guide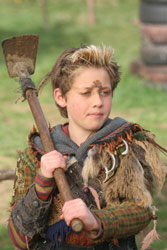 The New Tomorrow – Episode 25
Dan tries unsuccessfully to copy the way Flame crushes an apple.
When Faygar sees Sky and Zora bringing in the Stranger, she is disappointed. Flame jokes that the Stranger's return means they're all doomed and Sal silences him. But Dan's happy to see Sky and Zora back again. He just wishes he could have joined them.
Faygar's still troubled as she, Cass and Dan catch up with Zora and Sky, who acknowledge that Dan could be helpful another time. They agree to search for Omar and Kwarli if they're not back by sundown. At the shrine, Zora tries to calm Faygar and persuade her that the Stranger's not a threat, while Sky tells the stranger he's now free.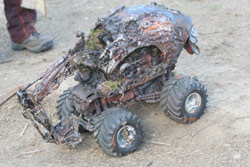 In a Priv cell, Omar and Kwarli look for a way out. Sunni seeks an intertribal meeting and, with his eye on Gwyn, suggests to Harmony that trade includes trading slaves. He and Harmony are both interested in trading information. Gwyn gets angry with Harmony for considering trading her, then she and Harmony explore the meaning of their relationship.
Out berrying, Leanne and Erin find a baby machine. It comes to life and pursues them into the Ant camp, which is scary for everyone except the Stranger, who has no fear of it at all. The tribes put the machine in the prison hut. Sky and Zora secure the hut, although the machine has become again quiescent.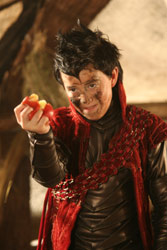 Omar and Kwarli try to eavesdrop on Harmony, as she and Gwyn discuss Sunni, his desire to meet with tribe leaders and whether Harmony can discard him. Harmony strategises and Gwyn is sent to tell Omar and Kwarli that they can go home, so long as they take a message from Harmony.
The Ants and Barbs discuss the machine and Flame mocks Leanne, Sal and Dan. When he still can't crush an apple the way Flame can, Dan is humiliated.
When a storm starts, the machines become restless and the Stranger too begins to come to life. The baby machine stirs. When Leanne and Erin are scared, Cass comes to reassure them.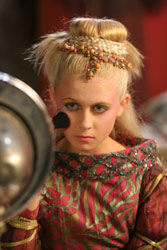 Just as Sky and Dan prepare to go to find them, Omar and Kwarli arrive home with their message.
When a new day dawns, Sky keeps an eye on the inactive baby machine and Kwarli checks the sky.
Cass, Faygar and Zora prepare for Sunni's visit.
Harmony and Gwyn discuss what Sunni has planned. Harmony's anxious about what they're up to, and about what to wear for the big tribal meeting.