The New Tomorrow – Episode 4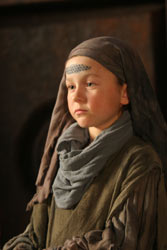 Ant and Barb leaders look accusingly at SKY and DAN jumps to his defence. SKY asks JAG for his evidence that he's a spy. JAG doesn't respond and the Barbs leave.
FAYGAR listens to SKY'S point of view, makes him welcome and leaves with OMAR to discuss the situation. OMAR thinks SKY may be the Evil ZOOT, disguised as a friend.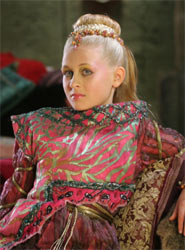 At the Barb camp JAG and KWARLI argue about KWARLI helping out Cass with the injured Ants boy. Out hunting, JAG gives ERIN a task to do, to help against the Ants. Later, ERIN decides to go hunting on his own for the first time and LEANNE is not happy. ERIN goes, near the Forbidden Zone.
At the Ant camp, SKY and DAN argue about the Barbs.
In the Privs' stronghold FLAME and HARMONY disagree about what to do about the Ants. Because FLAME wants to take over their land and make them work for the Privs, FLAME and SHADOW try to persuade HARMONY that the Warps should crush the Ants.
HARMONY gives GWYN a Discard girl, MAGDAR, and GWYN tries to make friends with her. FLAME discovers GWYN and MAGDAR playing as equals. GWYN thinks quickly and tells FLAME she ordered MAGDAR to behave like a Priv, as a game. FLAME then asks to play at being a Discard. FLAME leaves GWYN exhausted from their "game".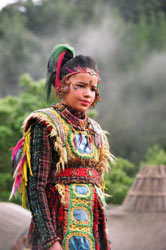 SKY leaves the Ants and they quarrel about him. SKY meets up with JAG and they begin to fight, but ZORA interrupts them and takes SKY fishing. This distresses JAG. As they cook fish they've caught, SKY tries to persuade ZORA to join forces with the Ants and ZORA tells him that the Barbs didn't raid the Ant camp.
When he hears SKY'S gone, DAN becomes angry with FAYGAR. CASS follows DAN and tries to reassure him.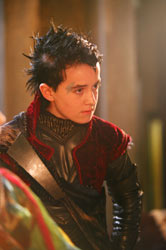 When JAG arrives at the Barb camp, LEANNE is angry with him because ERIN hasn't come home. JAG seems to be unsympathetic but goes to find ERIN.
As the Ants pray to the Ancestor, DAN leaves camp, he's had enough. In the Forbidden Zone JAG find Erin and rescues hime from a monster. DAN heads off, alone, into the forest.