Episode Guide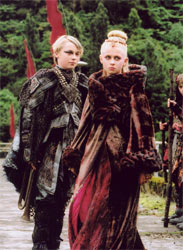 The New Tomorrow – Episode 5
DAN is in the forest, alone and hungry. He chases a chicken but finds nothing but broken egg shells. Back at the Ant camp, CASS worries about him but OMAR, busy replanting crops with SAL, is glad DAN and SKY have gone.
In the Priv stronghold, SHADOW prepares the Warps to attack the Ants. SHADOW lines them up for FLAME'S approval. SHADOW advises they'll be ready in a week. FLAME decides that the attack should happen the next day. HARMONY knows the Warps aren't ready.
HARMONY challenges FLAME'S decision to attack the Ants. FLAME argues that if he heads the attack and makes an example of anyone who resists, the Ants will be so scared there'll be no more trouble. HARMONY isn't so sure.
Back in the forest, DAN is still hungry. He eats some berries. The berries don't agree with DAN's stomach and he becomes very sick. The Ants discuss sending a search party for him but FAYGAR decides that instead they will pray to Bray to protect him. In the forest, DAN lies semi-conscious.
HARMONY asks SHADOW to persuade FLAME not to attack the Ants.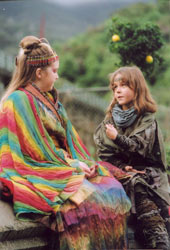 Out playing, LEANNE and ERIN find honey and decide to eat it rather than sharing it back at camp. LEANNE gets her own back on ERIN by making him eat a bee. While ERIN chases LEANNE for tricking him they stumble across DAN lying semi-conscious in the forest.
In the Priv gardens, GWYN beads MAGDAR'S hair. HARMONY, disapproving, interrupts them and summons GYWN to meet with her before they eat.
In the Barb camp, ZORA works with SKY on some fishing tools. LEANNE and ERIN burst into the Barb camp carrying DAN. KWARLI realises DAN has eaten snake berries. Only the moonflower antidote can save him – and it is only found in the forbidden zone. SKY offers to find it and ZORA agrees that KWARLI will go with him.
SHADOW suggests to FLAME they wait to attack the Ants until more Warps are trained. FLAME questions SHADOW'S loyalty. If SHADOW won't do it, he'll find someone else.
GWYN meets with HARMONY. HARMONY warns GWYN that she is too nice to MADGAR and tells her that if she wants to stay a Priv she must start thinking like one.
JAG argues with ZORA about letting KWARLI look for the moonflower and that the stranger must leave the Barb camp. But ZORA has told SKY he can stay as long as he wants.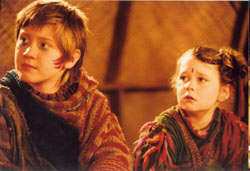 SKY and KWARLI find the moonflower but also spot a machine. They escape quickly with the moonflower back into the forest.
MAGDAR and another Discard amuse the Privs. SHADOW avoids HARMONY and FLAME boasts that tomorrow they will teach the Ants a lesson.
KWARLI and SKY arrive back at the Barb camp where DAN is only just alive. KWARLI goes to prepare the moonflower medicine.
HARMONY argues with FLAME that they are still not ready to attack the ANTS. FLAME reminds HARMONY that anyone who doesn't agree with him can be discarded – including her.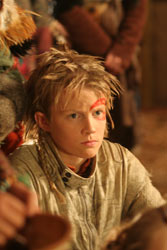 KWARLI gives DAN the medicine, ZORA sends LEANNE and ERIN out of the tent for causing trouble. When they complain to JAG he finds they have been eating honey.
At the ANTS camp FAYGAR and the Ants pray that DAN will be safe.
LEANNE and ERIN are punished for not sharing the honey by having to clean fish for a week.
Sky and Zora wait at Dan's bedside, willing him to live.
SKY practices his fight moves inside the Barb camp. JAG meets SKY to tell him that DAN is making progress – but also to tell SKY that neither he nor DAN are welcome.
SKY finds DAN awake and is told by KWARLI he must tell DAN that he has to go back to the Ants camp. DAN doesn't want to go back, he wants to join the Barbs.