Episode Guide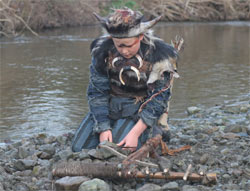 The New Tomorrow – Episode 6
HARMONY and SHADOW argue about the Warps being ready for the attack on the Ants. FLAME interrupts them. He wants to get some practice in before the attack and asks SHADOW to find him a sparring partner.
GWYN talks to MAGDAR and reminisces about her brother and her family. She shows MAGDAR a necklace her brother gave her. MAGDAR is weary of talking to GWYN and doesn't want to get in trouble.
JAG is laying a trap down by the river. ERIN interrupts him asking if an Ant can be a Barb. ERIN tells JAG he overheard DAN telling SKY he wants to join the Barbs.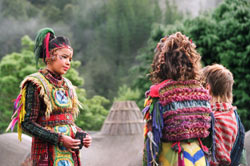 FLAME finishes off his sparring as HARMONY approaches. FLAME says she has nothing to worry about – does she know anyone that can beat him? FLAME tells her he plans to be a hero when he's defeated the Ants.
The Ants learn that the Warps have tricked them. CASS and OMAR want FAYGAR to meet with ZORA to form an alliance with the Barbs, but she doesn't want to. Although she says OMAR can increase the defence guard, she believes that BRAY will protect them. She is adamant not to side with ZORA and her Barbarians.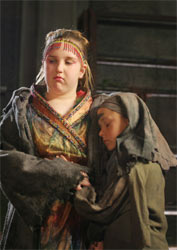 HARMONY walks in on GWYN and MAGDAR. When she sees GWYN being friendly to MAGDAR, HARMONY tells her she must return to being a Discard because she does not behave like a Priv.
SKY confronts JAG about his eagerness for DAN to leave. JAG insists that DAN and SKY must leave.
KWARLI tells SKY that if DAN tries to stay then JAG will make him take the test of courage to become a Barb. DAN wants to do it but ZORA lets SKY take the test for DAN, JAG takes SKY for a fight, on a booby-trapped path.
FLAME and SHADOW take a Warp war party into Barb territory. FLAME checks that SHADOW has instructed the Warps to look out for him.
To avoid being discarded, GWYN accuses MAGDAR of stealing the necklace her brother gave her. HARMONY sends MAGDAR to the Forbidden Zone and lets GWYN stay, even when she learns later that GWYN lied.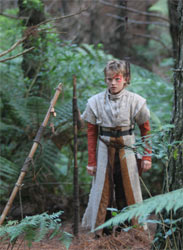 When the war party comes across JAG and SKY negotiating the booby-trapped course, SKY frees himself from a trap and helps JAG fight the Warps. They become separated and FLAME pursues SKY.
DAN and ERIN, who have been secretly watching JAG and SKY, help JAG. And as soon as SHADOW and the Warps leave to help FLAME, DAN, ERIN and JAG run to warn the Barbs. Meanwhile SKY has fought and beaten FLAME (whose face gets cut). SKY retreats telling FLAME they will meet again.
Back at the Barb camp, DAN learns he's been accepted as a Barb but worries because SKY has not returned.
When they get back to the Priv complex FLAME tends to his wounds. He tells SHADOW he wants SKY found, whatever it takes.